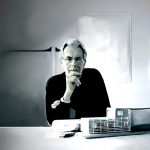 P

AOLO GALETTO

Paolo Galetto was born in Turin, april 1962. He was worked for a long time as a visualizer artist, drawing hundres of advertising and movies storyboards for some of the most important brands in the world. He continued to paint trhoughout,focusing on watercolors on paper. His work started from landscape studies and later moved on to the human figure to finally on portraits.
Among his most successful commissins combinig his personal research with broader, more incisive communication aims we find the "Voguettes", series of female portraits for Vogue Italy, "the faces of fashion", and "a portrait of a picture".
He contributes to some of the most important newspapers in the world with portraits of influential thinkers, philosophers, novelists and intellectuals of our time (READ).
He has been published on "illustration Now!" Vol. 5 Taschen edition as one of the most powerful illustrators in the world.
He was awarded a bronze lion in Cannes for campaign Romerquelle, mineral waters "watermade sensuality" in 2015. In the same year he camefirst at the "Cristal festival" (France) with the same illustrations.
He has been teaching in Istitute europeen of design (Turin) and conducting Workshops and Masterclass for over 20 years, promoting his own technical approach.
---
+39 347 2252098
paologaletto@gmail.com
www.paologaletto.com
---