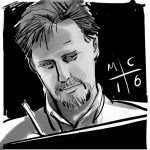 M

ARCO CERUTI

Born in: Piacenza, 11 August 1958
Graduated in architecture, Politecnico di Milano 1986.
I started working professionally in the field of comics and illustration in 1979. Since 1984 I have also started collaborating with the major Advertising agencies in Italy, both as an Illustrator and as a Visualizer (creation of Storyboards, Layouts and Animatics).
As an animator and videomaker I made several artistic and commercial installations, in 2007 I made an animation for the film "Bem Vigiado" by Santiago Dellape, presented at the Brazilian Cinema Festival (November 2007, Brasilia DF).
I speak and write fluently English, French, Spanish and Brazilian Portuguese.
---
Via Paolo Sarpi 9, 20154 Milano
+39 335 246367
54 Rue du Haut Castelet, 06600 Antibes
+33 (0)6 84221336
cerutiatelier@gmail.com
www.ceruti.ws
---